YZNG TRONG
PNEUMATIC ACTUATOR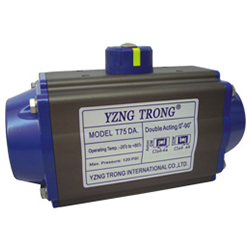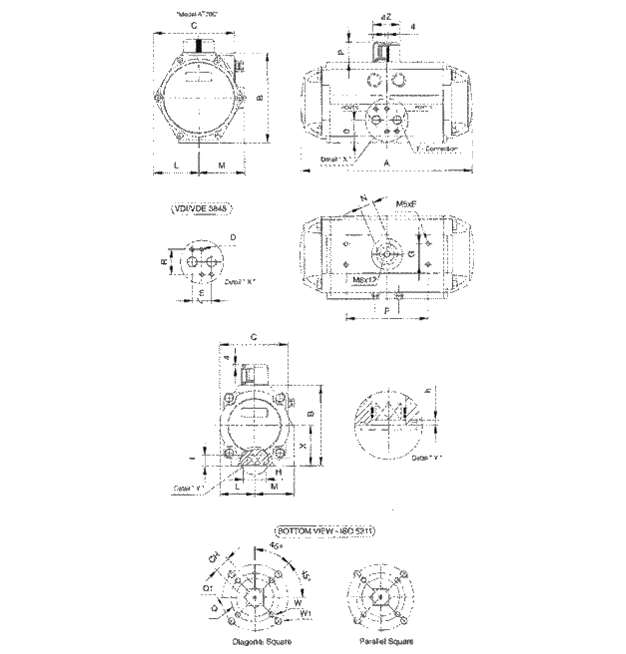 Innovations for The Future with New and Intelligent Technology
Body
The aluminum body with the appealing "New Edge Design" .Inside and outside surface Are completely coated with hard anodizing. Advantages of aluminum hard coating : extremely abrasion resistant , low surface roughness, optimal resistance.
External Stroke Adjustment
A great saving of time is achieved. When mounting the actuator on the valve, the rotation angle is easily and friendly adjustable with the precise cam system.
It is also changeable with a special cam for 0"~15" and 75"~90" This feature can be used by simple changing the screw with a longer one.
All adjustments of the end positions are possible without disassembling.
Multifunction Position Indicator
The exchangeable color coded insert is suitable for a parallel or 45 position of shaft or multiport valve.
Upon request. metal insert or cam insert is available for sensor. proximity or mechanical switch.
The Connections
ISO 5211.DIN 3337(F03-F25).VDI/VDE 3845(Size 0 to 4 )ISO 1 (CNOMO) and NAMUR for flexible usability and exchangeability.
PARTS & MATERIALS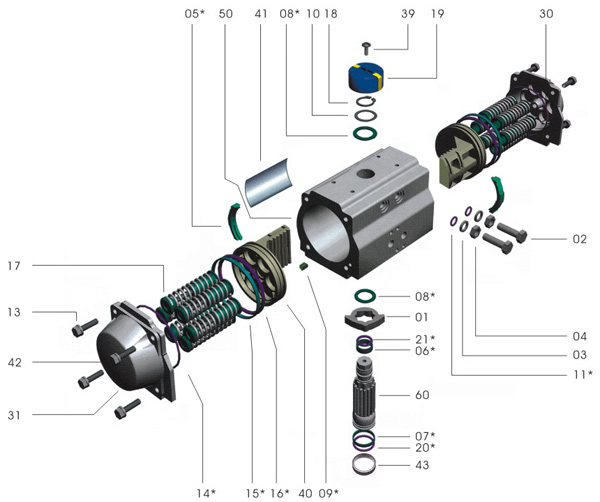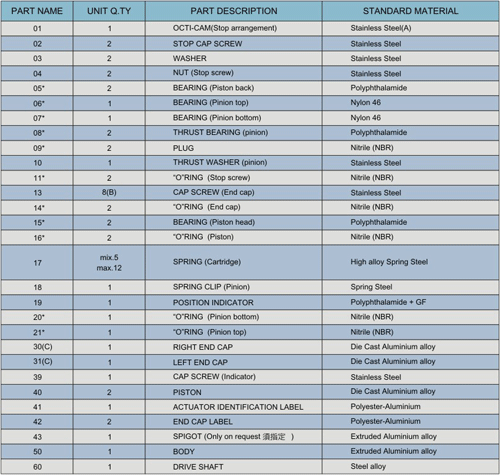 METRIC DIMENSIONS & TECHNICAL DATA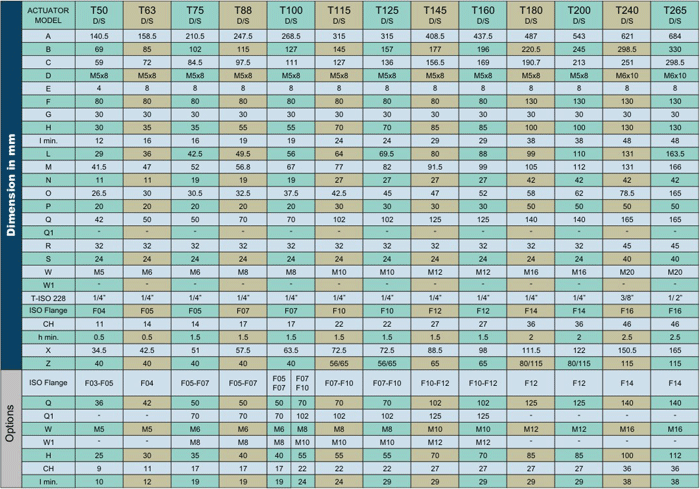 SPRING RETURN TORQUE RATINGS in Nm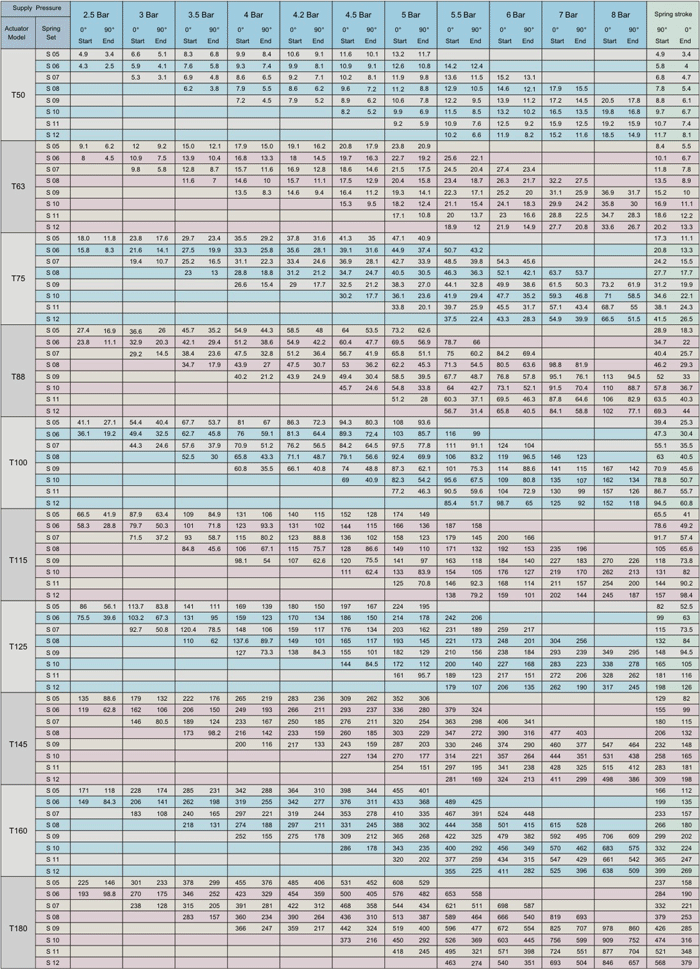 SPRING RETURN TORQUE RATINGS in Nm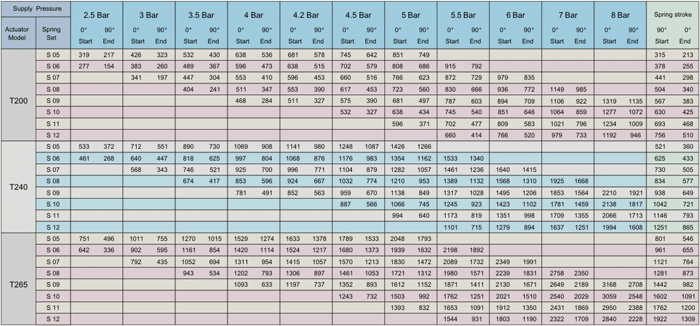 DOUBLE ACTING TORQUE RATINGS in Nm

DOUBLE ACTING ACTUATOR
With rack and pinion construction the output torque of an actuator is obtained by mulitipiying the piston force (given by air supply pressure) by the pitch shaft radius (lever arm) as shown in fig.1less the force lost for friction (efficiency). Because of this concept. The output torque is linear as shown in the diag. A in both clockwise and counterclockwise rotation. The suggested safety factor for double acting actuators in normal
Working conditions is 15%-20%
SPRING RETURN ACTUATOR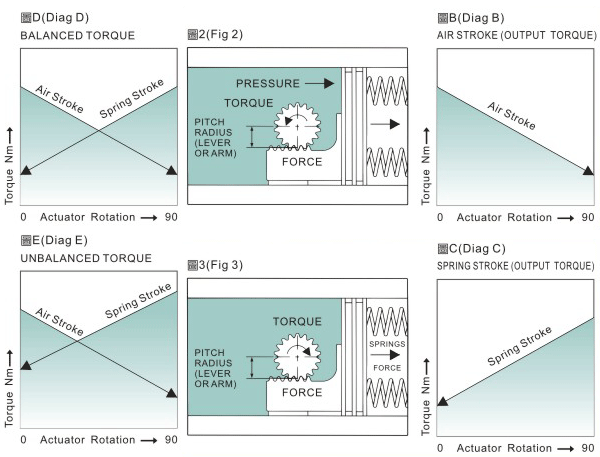 First condition:(Fig2)
Output torque is generated by air supply pressure at Port 2 after compressing the springs, called "OUTPUT TORQUE AIR STROKE" In this case air forces the pistons from the 0°" to the 90°" position and Consequently the torque atarts from a higt vatue and during the stroke It constantly decreases until 90" due to the natural force that springs Generate (oppose) when they are compressed (Diag B).
Second condition:(Fig 3)
Output torque is generated by the force that springs release onto the Pistons when air fails,called:OUTPUT TORQUE SPRING STROKE" In this case the torque, staring from the 90" postion, constantly decreases until 0" because of springs extending (Diag C).
At spring return actuator are designed to produce a balanced torque in The two conditions explained above when the number of springs per side Is equal to the air pressure supply (4 bar – 4 springs each side) as shown In Diag D. For certain applications it is possible to achieve (where Desired). The unbalanced torque. As shown in Diag E.by changing the Relation between the number of springs per side and air pressure Supply in bar (for example 6 springs and 5.5 bar or vice versa). In close or failure to open.
The suggested safety factor for spring return actuator in normal working Conditions is 20%~25%